"In honour of ZZ Top's 50th Anniversary Magnatone is proud to present a limited run of special edition master collection models.
Billy Gibbons has been and remains an Integral part of the Magnatone team and we celebrate ZZ Top's years of longevity with the special edition amplifiers"




EXCLUSIVE GOLD EDITION FEATURES
Limited to 50 worldwide

Blonde Cabinet Covering

Golden Sparkle Grill Cloth

Gold Piping

14 Karat Gold Plated Chevrons

Amber Jewel Indicator Lens

Solid Brass Vents 

Limited Edition Gold Certification Badge On The Rear

Certificate of Authenticity
High-gain American Combo with a British Accent
The Super Fifty-Nine M-80 1x12-inch tube guitar combo amp incorporates the gain stages and tone stacks of Magnatone's Super Fifty-Nine MKI and MKII models. Celebrating Magnatone's 80th anniversary, this super-versatile 45-watt, EL34-driven brute gives you the low- and medium-gain tonal range of the MKII and lets you access, via a front-panel switch or an external footswitch, the additional gain stage found in the MKI when you need that extra push over the cliff. The Super Fifty-Nine M80's tube complement consists of four 12AX7s in the preamp section and two EL34 output tubes, delivering 45 watts in a push-pull Class AB configuration. The M-80 is also equipped with a 12AX7 tube-buffered effects loop.
Exclusive gold edition with premium appointments
This special edition of the Super Fifty-Nine M-80 combo amplifier is dressed to impress. Its blonde cabinet covering is complemented by golden-sparkle grille cloth and gold piping, as well as 14K gold-plated chevrons. Solid brass vents and an amber jewel indicator lens complete the gilded look. Complete with a Limited Edition Gold Certification badge on the rear, and a Certificate of Authenticity, the Magnatone Super Fifty-Nine M-80 will be the highlight of your amplifier collection.
The best of both worlds
As the M-80 offers the best of Magnatone's Super Fifty-Nine MKI and MKII amps, it's instructive to take a look at the tonal profile of each model. These are both EL34 amps, and they both deliver that classic British high-gain sound. But there are differences. In contrast with its MKI stablemate, the MKII sports slightly lower gain and more preamp headroom — perfect for chunky rhythm parts. When you need extra punch behind your solos, the MKI high-gain circuit offers higher gain and more compression, effectively turning the single-channel M-80 into a footswitchable, 2-channel amp.
Rock the big stages with classic EL34 tone
The sound of the Super Fifty-Nine M-80 quite simply takes your breath away. It nails the classic, big-bottle EL34 sound in all its harmonic complexity. And it's got the grunt to rock the big stages. This versatile beast delivers truly impressive tonal dexterity, taking you from shimmery cleans to vintage grit to Brit-voiced high-gain, deploying everything from classic rock overdrive to modern tonal Armageddon that'll strip the paint off club walls. Very tasty, indeed. Plug in and hear what the fuss is all about. Whether you're deploying crispy cleans, arena-shaking crunch, or searing shred, the Super Fifty-Nine M-80 delivers the tone you want — at the volume you need.
Perfect for live gigs and studio sessions
With two EL34s in the engine room, the Magnatone Super Fifty-Nine M-80 delivers 45 watts. Now, these are tube watts, which means you've got more than enough juice for any gig — even if you play heavy music with a powerful drummer. You're also not burdened with a 100-watt behemoth in the studio. Even in a high-gain, master-volume-equipped amp like this, the ability to gain stage freely and push the output tubes to taste is vital in nailing the guitar tone you're after. At Sweetwater, we've found that the Super Fifty-Nine M-80 has a comfortable, broad operating range on tap, for a rich sonic palette that lets you ace any musical scenario. Two studio- and stage-friendly features we really appreciate are the speaker-compensated line output, which can be routed directly to the recording console or front of house, and a tube-buffered FX loop that takes pedals like a champ.
Magnatone: a slice of rock history
Magnatone first began producing electric guitars and amplifiers in the late 1930s. By the '50s and '60s, Magnatone amps had become highly sought after, largely because of their distinctive pitch-shifting vibrato effect, which was responsible for the "watery" guitar sounds you hear on Buddy Holly and early Bo Diddley recordings. Legendary blues-rock guitarist Lonnie Mack employed Magnatone amplifiers to achieve his signature vibrato-soaked sound. Today, Neil Young is also an admirer and uses a vintage Magnatone in his live rig. In 2013, the company entered into a new phase of its evolution, creating a new and improved line of boutique guitar amplifiers that have been embraced by guitar luminaries such as Jeff Beck and Billy Gibbons.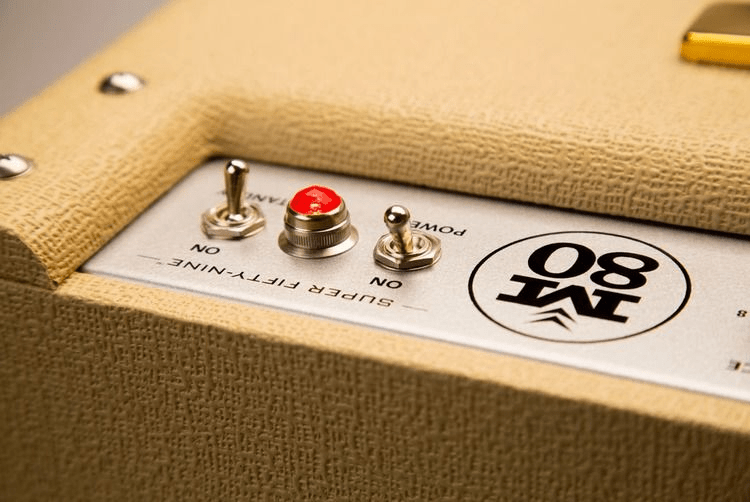 FEATURES
Combines the tone and gain stages of the MKI and MKII into one flexible, footswitchable amp
Limited Edition Gold finish with blonde amp covering, gold sparkle grille cloth, 14K gold-plated chevrons, gold piping, solid brass vents, amber jewel indicator lens, and Limited Edition Gold badge
Single-channel, with 2 bridgeable inputs, master volume, and 4-band tone stack
Lo/Hi selectable Gain, footswitchable
Tube-buffered FX loop interfaces seamlessly with your pedalboard
Speaker-compensated line output (must be used with speaker connected)
1 Warehouse Guitar Speakers ET-90 12-inch speaker
Vintage American styling with illuminated Magnatone logo
Includes Certificate of Authenticity
SPECIFICATIONS
45-watt

push-pull

Class AB amp with classic EL34 tone

Speaker Size: 1 x 12" Warehouse Guitar Speaker ET90 
Preamp Tubes: 4 x 12AX7 
Power Tubes: 2 x EL34 
3-band EQ 
Inputs: 2 x 1/4" (high, low) 
Outputs: 2 x 1/4" (4/8/16 ohms), 1 x 1/4" (line out) 
Effects Loop: Tube buffered 
Footswitch I/O:1 x 1/4" (gain) 
Footswitch Included: No 
Construction Material: Birch Plywood Cabinet, Blonde Covering with Golden Sparkle Grille Cloth and 14 Karat Gold-plated Chevrons 
Power Source: Standard IEC AC cable 
Dimensions: 610 x 267 x 560mm
Weight: 25.5kg